For millennia, mankind has seen constellations carved in the stars, envisioned an entire canon of deities watching over us, and envisioned other worlds beyond this one. But perhaps more important than what they imagined, was that they imagined something at all. They committed those thoughts to the written page, and passed them down the ages. Today, we've taken momentous steps and have gone from simply imagining the stars to learning about them - and exploring them first-hand.
The new StarWalker is about walking amidst the stars. It's about exploring the cosmos and foreign galaxies, about being part of one of the most mysterious and powerful of human kind's adventures: space exploration. The collection's new design celebrates the immense emotion, described by all space travellers, of seeing our blue planet floating in the vast expanse of space. The StarWalker emblem technology features a blue translucent dome beneath the Montblanc emblem, reminiscent of the Earth emerging above the lunar horizon. The StarWalker Precious Resin comes with platinum-coated fittings and a black precious resin barrel and cap.
Platinum coated
With this unique collection of writing instruments, Montblanc pays homage to the technological achievements that have taken mankind to the stars. Created with the crafting excellence that defines the Maison, the polished platinum coated cap and barrel represents the astronauts' space suits and the angled clip cover and dome resemble the miracles of engineering that produced spaceships.
Craftsmanship
From the beginning stages of assembling individual parts to presenting a truly alive and resplendent piece, our products are lifestyle companions that will accompany yours and future generations to come.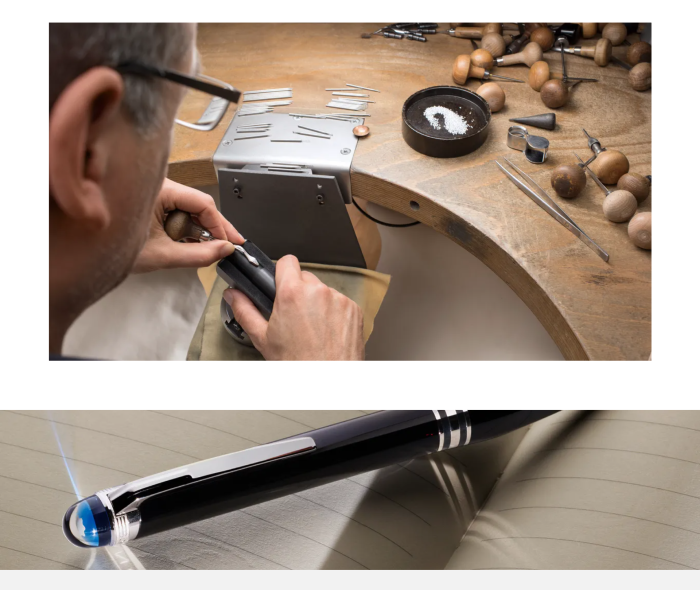 Features:
CLIP DESCRIPTION: Platinum-coated clip

BARREL DESCRIPTION: Black precious resin

CAP DESCRIPTION: Black precious resin

COLOR: Black

WRITING MODE: Fineliner

DIMENSIONS: 135.4 mm x 14.9 mm

PHYSICAL WEIGHT: 28.03 g
All local deliveries will be made within 5 to 15 working days from purchase date. For International deliveries, the lead time can be of 10-20 working days. Any change in delivery lead time in special cases will be separately informed to the customer.

All prices stated are nett.

All purchases & redemptions are subject to terms and conditions of the final product suppliers/brands, which are subject to change without prior notification.

Products once purchased, cannot be refunded/returned/exchanged. In exceptional circumstances, when the product delivered is not matching the product ordered or the supplier informs of unavailability of the product post the product purchase, refund may be allowed solely after approval from United Points (UP) and the supplier of the product.

United Points (UP) is not responsible for any loss, injury or harm any person suffers in connection with using product/s purchased.

In case of self-collections, all redemptions must be collected within 1 month from date of issuance.

All redemption items are subject to availability and on a whilst stocks last basis.

Redemption is strictly non-exchangeable and non-upgradeable, unless otherwise indicated.

UP reserves the right to reclaim and charge the full retail value of the gift/s from the customer if Reward Points is insufficient due to a cancelled/returned/refunded order.

UP will not extend the redemption period. Lost or damaged vouchers will not be replaced or refunded.

By redeeming the item, customers accept the terms and conditions stated in UP Terms and Conditions.

In the case of vouchers, they can only be used one time and vouchers cannot be extended once expired.

Vouchers are non-refundable, non-exchangeable for cash and non-replaceable in case of loss or if stolen or destroyed.

Voucher value must be used in full upon redemption at the merchant location unless otherwise specified. No change will be given in case of voucher usage for an amount lower than the voucher value.

Images shown are for illustration purposes only. The colour of the actual product may/may not defer from images shown.